Yes, to all. Those are the relays, I am saying they do work when the GPIO pins are flipped, and that the GPIO pins are not being flipped by the stock software.
Picture of the component: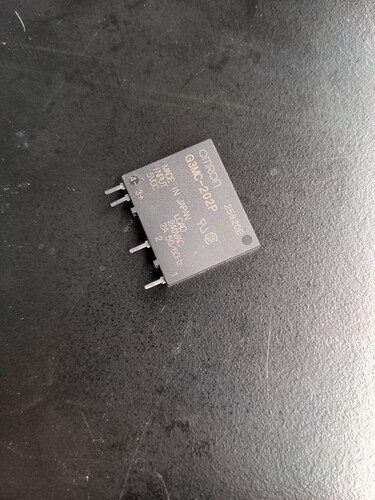 Some info about my system:
It's a US system
I don't have a common wire (hence the need for an external 5V supply)
The heating and cooling have separate hot wires, which I combined (so if they are separate transformers supplying the 24V AC, they are in phase)
The BME sensor issue is not resolved. Below is the exact output from the relevant commands. Temperature value is correct.
pi@raspberrypi:~ $ i2cdetect -y 1
     0  1  2  3  4  5  6  7  8  9  a  b  c  d  e  f
00:          -- -- -- -- -- -- -- -- -- -- -- -- --
10: -- -- -- -- -- -- -- -- -- -- -- -- -- -- -- --
20: -- -- -- -- -- -- -- -- -- -- -- -- -- -- -- --
30: -- -- -- -- -- -- -- -- -- -- -- -- -- -- -- --
40: -- -- -- -- -- -- -- -- -- -- -- -- -- -- -- --
50: -- -- -- -- -- -- -- -- -- -- -- -- -- -- -- --
60: -- -- -- -- -- -- -- -- -- -- -- -- -- -- -- --
70: -- -- -- -- -- -- 76 --
pi@raspberrypi:~ $ ./scripts/bme280.py
Chip ID     : 88
Version     : 1
Temperature :  77 F
Pressure :  994.022775087 hPa
Humidity :  0.0 %